Set Better Goals In 7 Days - A Journaling For The Health Of It® Book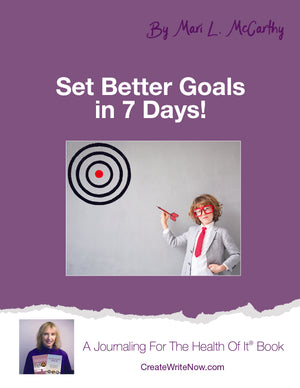 Do you ever feel like you're just spinning your wheels and not getting anything done? Do your dreams feel like they'll never come true...but you don't know what steps to take to make a change?
This is the Journaling Power eBook that will help you nail down what you want, determine the steps you need to take to get to where you want to go, and get motivated to work on achieving your dreams every day!
In just 7 days, this eWorkbook will help you:
Narrow down your short-term and long-term goals
Formulate action steps for your goals
Anticipate potential roadblocks and their solutions
Create the support system you need to be successful!
This gentle guide delivers daily journaling prompts, instruction and encouragement to help you set and get your goals in methodical, do-able steps!