Declutter Your Life In 21 Days - A Journaling For The Health Of It® Book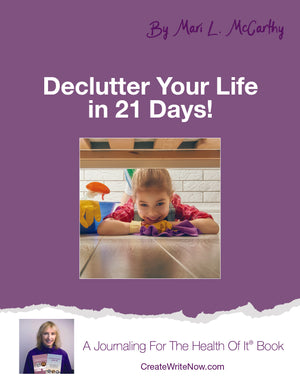 Your home should be a place of solace and comfort.  But for many, our home environment becomes a source of stress in our lives.  When we feel disorganized and scattered in our homes, the feeling can can lead to general unhappiness and discord in our every day lives.  Tackling years of built-up clutter can be overwhelming.
But journaling can help!  While your journal can't actually do the decluttering for you(!) it can be an invaluable resource for changing your behavior, letting go of the past and embracing the future. Jam-packed with creative journaling prompts, tips and encouragement, this course will help you get to the bottom of your piles - and back on top of your game!
If you're ready to take charge of your physical space, create harmony in your life, and end the battle with clutter for good, this course is for you!