15 Days Spiritual Journey - A Journaling For The Health Of It® Book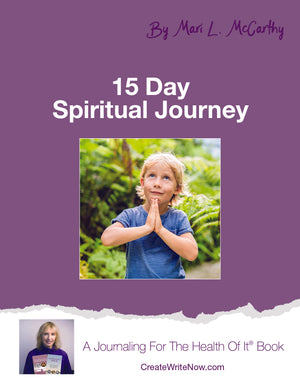 Spirituality is an important part of your overall well-being.  It shapes who you are and what drives you - whether that's a desire to help others or a belief in a higher power and a greater good.  
But spirituality is often pushed to the back burner.  A powerful way to get back in touch with your spiritual life is by picking up a pen!  Let this eBook show you how to use journaling to:
Clarify your beliefs & values.
Reflect on what's most important to you.
Be more true to YOU.
Nurture your spiritual growth.
Through the use of meditation, insightful questions, creative journaling prompts and ideas, this eBook will guide you on a personal journaling journey to connect more deeply with your own spirituality, find new energy and create greater fullfillment in your life!